The Sagamore Spirit Distillery Campus
Our world-class waterfront distillery is located in Baltimore's Port Covington neighborhood, directly off I-95 and a short drive from Baltimore's Inner Harbor. We are open five days a week for whiskey tastings and shopping, and will soon open safely for hour-long guided tours. Join us for a drink at our Whiskey Bar, Nineteen 'O Nine, or stop with friends and family for our monthly summer series, Whiskey on the Waterfront! Learn more about our events and experiences below. We can't wait to share our spirit with you.
VISITOR CENTER HOURS
Monday – Tuesday | Closed
Wednesday – Saturday | 12pm – 8pm
Sunday | 11am – 6pm
CONTACT INFORMATION
Phone | 410.624.7488
Email | [email protected]
Address | 301 E Cromwell St, Baltimore, MD 21230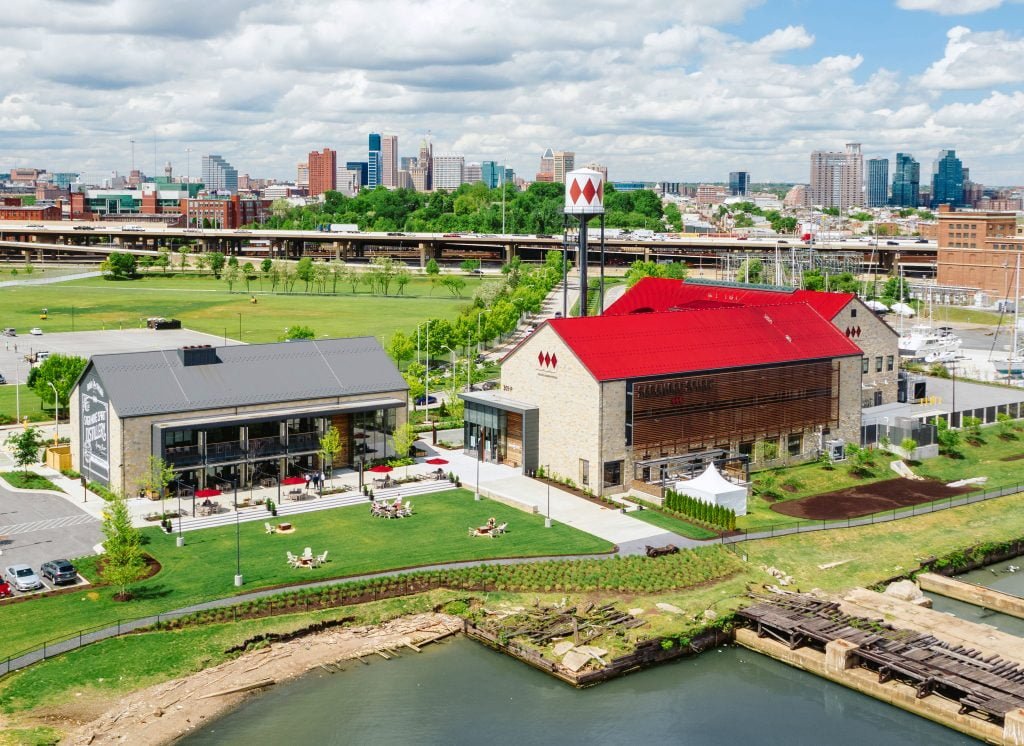 Guided Whiskey Tastings
Our Signature Distillery Tour is a one-hour guided experience that gives guests a behind-the-scenes look at our distillation, aging, and bottling process. Learn about our grain-to-glass initiative and the dedicated steps we take to craft each of our award-winning rye whiskies. Each tour includes a 30-minute walkthrough of our facility and a 30-minute guided whiskey tasting. Available Wednesday-Sunday.
Sagamore Spirit's very own Rye Whiskey bar is now open and serving handcrafted cocktails, flight trays, and exclusive whiskies. The space is also available for small private events.
NINETEEN O'NINE HOURS
Friday | 4pm – 8pm
Saturday| 12pm – 8pm
Sunday| 11am – 6pm
Interested in learning how to make cocktails like the pros? Or maybe participate in an in-depth whiskey sensory experience? Sagamore Spirit offers a number of distillery events for a fun evening out. Great for happy hours, birthdays, or other celebrations. See our distillery event schedule below!
Join us in-person as we dive into the intricacies of some of the most iconic and refreshing whiskey cocktails. Guests will participate in a session with one of our Sagamore Spirit teammates to sample our signature products and craft two individual whiskey cocktails.
Looking to kick off your Sunday bright and early? Come join one of our teammates at the distillery as we walk you through the history of Sagamore Spirit. Gather in one of our tasting rooms with individual stations to make some brunch themed cocktails.
Join us to learn about the history and making of one of the most iconic whiskey cocktails. Classes include a guided tasting with a Sagamore Spirit teammate and a step-by-step tutorial on how to craft our original Old-Fashioned recipe and a personal spin-off.
Join us as we dive into the intricacies of an iconic, Rye Whiskey cocktail, the Manhattan.  Guests will enjoy learning about history of this classic cocktail, then mix up a traditional Manhattan and a spin-off!
Celebrate mom at the distillery! Join us for various cocktail experiences to celebrate throughout the week. From brunch-style recipes to gifting a night out to mom, guests will participate in hands-on classes to walk you through how to make some of our most refreshing whiskey cocktails.
Join local yoga instructor, Marissa Walch, for a waterfront yoga class at the distillery. During various classes, guests with receive one of our signature rye whiskey cocktails. This class is outside and will be weather permitting.
Come join Sagamore Spirit and McFadden Art Glass for a hand's-on glass making event. Join the McFadden Art Glass crew as they walk you through the glassblowing process of making your very own rocks glass then enjoy a guided tasting of various Sagamore Spirit expressions.
We're gearing up for Father's Day, cookout-style! Join us for a night on the waterfront with various whiskey and BQQ pairings, including a specialty beer pairing followed by our newest whiskey release. Click below for more details, space is limited!
Private Events
Interested in private events at the distillery? We currently host private events for up to 16 guests from the same party. Rent our indoor/outdoor space for up to 4 hours to enjoy private whiskey tastings and cocktails. Catering options are also available. Reach out today if you are interested in learning more!